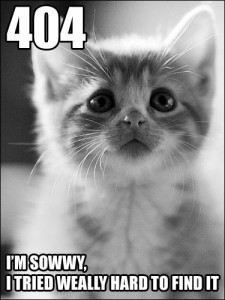 404 pages are the best way to lower search engine rankings and scare  visitors away from your site. In many cases the content is still available on the site only the location changed. Tridion eliminates the number of broken links within your website if your content editors  make correct use of component linking. Component linking makes it very easy (and tempting) to change the location of content within a website.
Unfortunately inbound links and search engine content is not managed out of the box by Tridion which results in the dreaded 404 pages being served to visitors and crawlers. The solution is simple: Redirect (301) the crawlers and visitors to the new location of the content yourself. To do this you need to:
Recently I came across a post (and a fellow Tridion blogger, keep up the good work!) which answered the question "Why won't this publication delete?".  It describes a tool (source code included) which helps you find the pages which you need to unpublish before you can delete the publication. It mentions two prerequisites which need to be met before you can delete a publication:
No pages in the publication are published
There are dependencies on the publication, child publications etc.
I would like to add a third prerequisite:
Check the publishing queue for publish transactions which belong to the publication to be deleted which have the status "in progress".  In some instances publication transactions never leave this state and they will prevent you from deleting the publication.
In addition I would like to propose another way of 'unpublishing' all items in a publication (pages, components, MM components etc) by running the following query on the CM database (back-up the DB first) :
Read more
In the Tridion cms content is being stored in folders. The folders are similar to folders in file systems, they contain both subfolders and components. However if you wish to publish the content of an entire folder you will have to traverse all subfolders yourself in order to select and publish the components manually. Not exactly a job for volunteers.
Fortunately there is something called the Tridion API which allows you to write a (power)tool which takes care of traversing a folder hierarchy and republishing all the content in it. This will reduce the effort of republishing an entire folder to an acceptable level and give any script kid a huge sense of accomplishment.
Alas a tool like this is not very friendly to the users of the Tridion cms. They will ask why it is impossible to publish a folder in the same manner they can publish a structure group. The answer to this question is unknown to me at this point in time. Perhaps one of the Tridion employees reading this blog can enlighten me on this subject (and approve my comments on ideas.sdltridion.com). Read more